Idag är det påskafton, hela "svärfamiljen" med respektive befinner sig just nu nere på småländska höglandet. Gårdagskvällen fördrevs med strategispelet Risk – men min svärfamilj är inte direkt känd för att vara gammalmodig… så naturligtvis spelades världens öde ut på en nyinskaffad iPad.
Jag är väl inte den bästa på strategispel, speciellt inte i ett sällskap som detta (!). Således hade jag inte en tanke på att jag skulle till att ta världsherravälde över svåger, svärfar, fästman och kusin… dem förgjorde ju varandra så bra själva.. jag bara städade upp. De krävde således en revansch efter deras oväntade tillintetgörelse – men som alla stora människor i världen säger – så är det bäst att sluta på toppen! Jag gick till sängs medans de fortsatte ett nytt världskrig… men att sova igenom ett världskrig mellan dessa herrar – det är inte enkelt. Min svärmor förundrades över att jag lyckats sova mig igenom deras krigsrop och slag.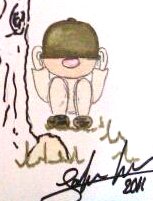 Idag blir det en trevlig påskmiddag som väntar, med ett sent födelsedagsfirande av en av min sambos bröder – han missade av en händelse gårdagens krigshändelser, och tydligen saknar han en del utrustning, men det råds bot på vill jag lova.
_____________________________________________________________________________________________
This year, we are celebrating Easter with my fiances' family. Yesterday evening was spent playing out world wars in the strategy game Risk – but since my fiances' family is not one to be old fashioned, it was played out on a newly acquired iPad. I am not the best player for strategic games – especially not in this kind of company (!), therefore, the result of me ending up with world domination was not part of my "plan"… I mean, they did a pretty good job destroying themselves, I just cleaned up the scraps.