Creativity – painting plastics
Posted by JoJo
Dec 13
Sometime during 2005 I started painting models out of plastic & metal. My fiancé had a box standing around, filled with plastic models for the fantasy strategy battle game Warhammer. He hadn't played for a couple of years – partly because he didn't like the painting part of the hobby… and playing around with plain grey plastics isn't very much inspiring. Good then that he had found someone like me (?) – who loves to paint and make creativity flow… here's a picture of my very first model painting of an Empire Wizard:
~*~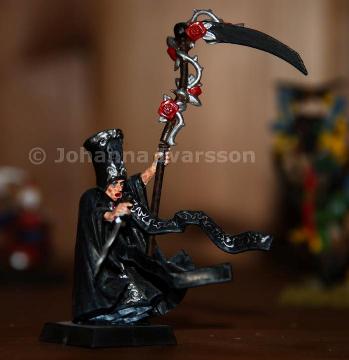 ~*~
I remember how I chose this particular figure simply because of the roses… I also remember how I felt as if I would never be able to create a flow in the robes, and the face I won't even mention… but for a first try, I'm proud. A few years later I did my second wizard, and these two are one of the few figures I've ever painted that has a (living) human face (with flesh):
~*~
~*~
______________________________________________________________________________________
This is a Creativity post, a category where I write about all the things I got going outside of work. Feel free to comment, and give criticism.