The Witch Doctor, The Record Mixer, and a Burglary
Posted by JoJo
Maj 17
Mina föräldrar skiljde sig när jag var sex. Sedan dess spenderade jag och mina systrar varannan helg hos far som flyttade till en lägenhet i grannstaden. Jag minns varje lördagsmorgon; far arbetade delvis som tidningsutbud och när han kom hem på morgonen ställde han sig och gjorde pannkakor och plättar. Vi brukade alltid sedan tävla om vem som orkade äta flest, med noggrann koll på ställningen.
Det var inte en stor lägenhet – men jag minns hur jag alltid trivdes där. Inte långt ifrån låg en stor skivbutik och jag minns när vi efter en dag kom hem med Cartoons' Toonage – nyligen släppt! Far hade en sådan klassisk stereo med flera "steg" och en skivblandare – Toonage blev en stående gäst och spelades jag vet inte hur många gånger. När jag tänker tillbaka så tror jag att Toonage nog var en av de få album där jag faktiskt tyckte om majoriteten av låtarna som erbjöds. Att dansa i fars vardagsrum till "Witch Doctor" och "Aisy Waisy" … jag undrar vad han tyckte… för jag kunde absolut spela den om, och om igen. Men det är klart – vi var ju bara där varannan helg så han kunde kanske stå ut.
Men så en tid senare fick vi inbrott. De hade stulit det mesta av värde (men det värsta av allt) de hade stulit stereon. Jag minns inte när detta var, men Toonage låg fortfarande i skivblandaren. Sedan dess lyssnade jag inte mer på Toonage, det var innan MP3-spelare och digital musik, och att få tag på ett par år gammalt skivalbum är ju inte det lättaste. Jag brukade slänga ett öga på skivhyllorna – men fick aldrig syn på den igen.
Nu har det gått ytterligare flera år – året är 2011. Sittandes på ett hotellrum i Tyskland kommer jag plötsligt att tänka på "det där albumet som var så "catchigt"". Ett ord: Spotify. Klicka på bilden nedan och dansa loss tillbaka till 90-talet!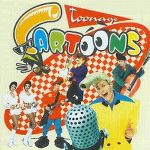 (c) hitparad[dot]se
And for the record. I still love this album.