Elkraft, vad är det?
Posted by JoJo
Feb 16
Vad tänker Du på när du hör ordet Elkraft? Till stor del handlar det om produktion och transport/distribution av elektricitet. Elkraft handlar om att överföra ström från producent till slutanvändare.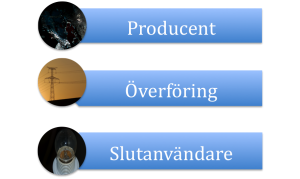 Mitt arbete på ABB HVDC fokuserar på överföringsprocessen. Det finns flera olika sätt att överföra elektricitet. Dels finns det olika medium att överföra på – ofta koppar eller aluminium. Dels kan man överföra elektricitet antingen via luftledning eller kabel. Utöver dessa så kan man överföra olika typer av elektricitet – växelström (AC) eller likström (DC), tyvärr har det inget med hårdrocksbandet AC/DC att göra…
DC- och AC-elektricitet utvecklades parallellt av de stora namnen Thomas Edison och George Westinghouse, samt Nikola Tesla respektive. Växelströmmen (AC) var dock det "elformat" som man valde att distribuera ut till offentligheten – och det är växelström som vi har i våra hem än idag. Men hur man kom fram till valet av distributionsström ledde till att Edison och Westinghouse blev bittra fiender. Wikipedia berättar hur Edison utförde stora, ibland avskräckande, kampanjer för att marknadsföra likströmmen – hela förloppet har idag kommit att kallas för The War of Currents (Sv, Eng).
HVDC står för High Voltage Direct Current och är ett område inom elkraft som blivit allt mer populärt för långa överföringar. Det smått komiska är att AC från början marknadsfördes av Westinghouse framför DC på just den punkten – långa överföringar, där HVDC idag har flera fördelar.
** Ordlista **
AC . Akronym för Alternating Current. Svenska benämningen är generellt växelström.
DC . Akronym för Direct Current. Svenska benämningen är generellt likström.
HVDC . Akronym för High Voltage Direct Current. Svenska benämningen är generellt högspänd likström.
___________________________________________________________________
What do You think about when you hear the expression electric power? It is more or less about transferring electricity from producer to consumer. This is what my work at ABB HVDC is about – the transferring process of electric current.
There are generally two types of currents – AC and DC. How AC came to be what was chosen for mainstream distribution in the beginning of the 20th century is commonly known today as the War of Currents.